Blessed Father's Day to all fathers everywhere. Let me start with a confession: I've blogged before, so it's not a clean beginning per se. So why start again? And will it last this time?


You've probably heard it said that nothing gets your creative juices going than to actually start writing; well, as far as writing's concerned, anyway. So, here's an another attempt to kick-start my brain. How else is a teacher supposed to help students in their writing if he doesn't write as well, no? And with regards to going the distance, I determined (okay, I was determined the last time, but this time I more determined) to do so.
And to show my determination, this will be a bumper post, beginning with last night's dinner. We ate at Wagamama Asia City and both my wife and I ordered our sets. It was a sort of advance Father's Day dinner for me, la. This was my wife's, chicken in sesame seed with sauce, unagi and cawan mushi.
Mine was deep fried strips with beef and chicken fillings, with fried egg with salmon and a pasta in mayo cold dish.
And this is Adelle, who also enjoyed the food we gave her (after enjoying her own dinner of porridge!).

We also had a few plates from the belt to stuff ourselves with. And…kenyang! The bill came up to RM60++ for the both of us…after minus 50% from the belt food. We were satisfied! All went home happy that night…
This morning, went to Seri Mengasih's charity bazaar. Arrived at slight past eight and people were already thronging to go there! Mostly food stuff being sold, but there were also stalls selling toys, books, t-shirts, and curtains(!). Also very conspicuous were some stalls from some political parties.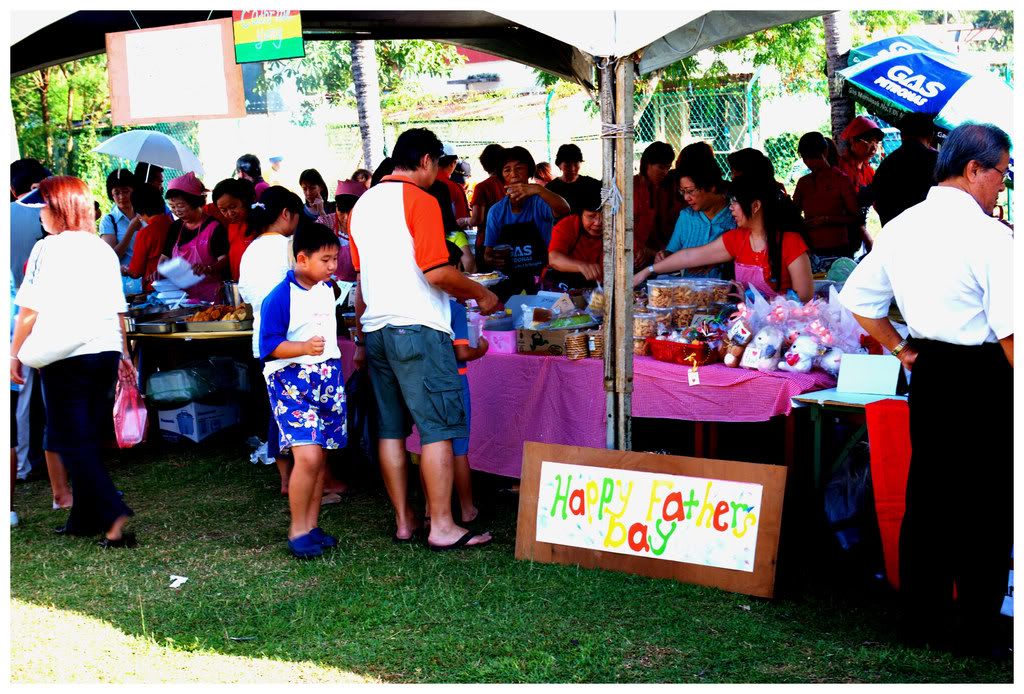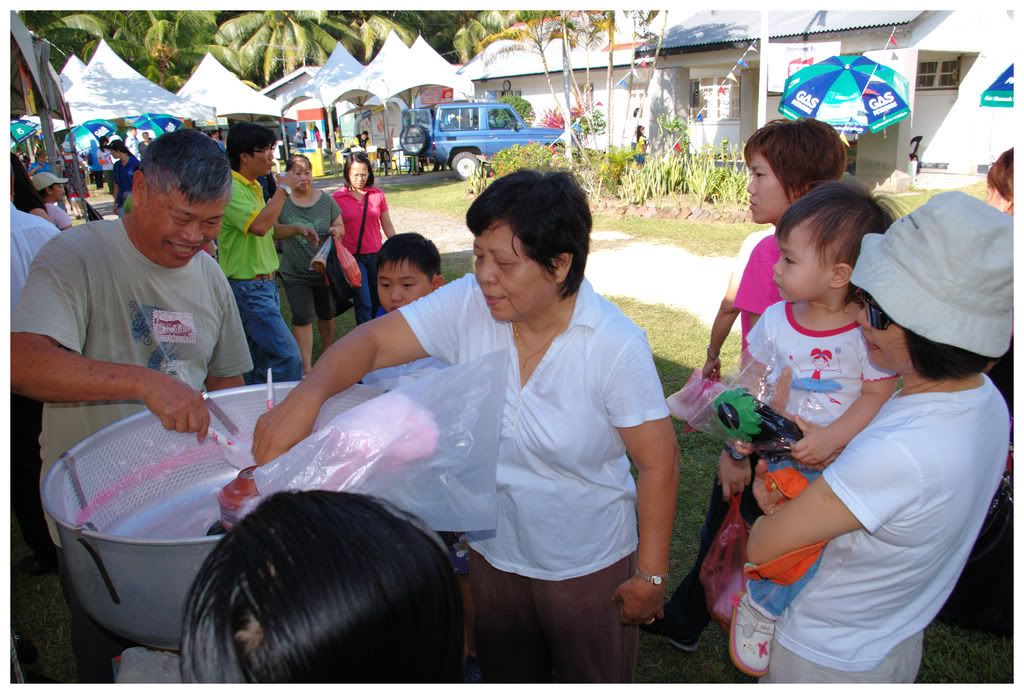 Anyway, the one that interested me most was this Chinese calligraphy stall which was being manned by an Indian man! He had skill! A couple of photos.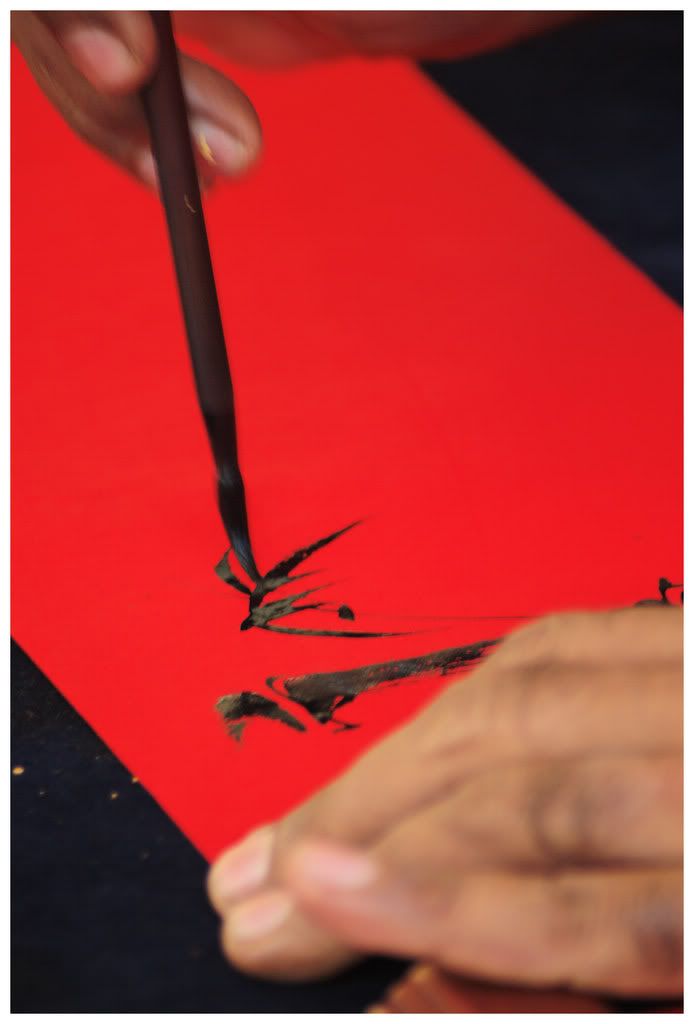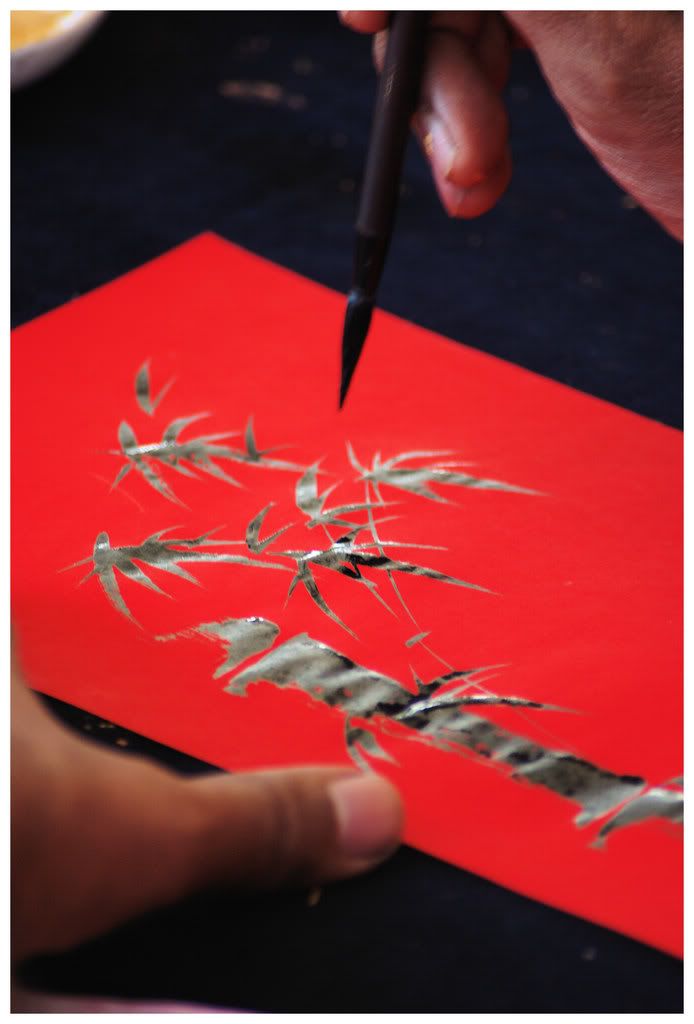 Didn't buy much, just chicken pies which has now disappeared into our cavernous tummies. But, a family friend whom we met there bought Adelle a stuffed toy, Lilo. Adelle seems to like it. Here's the toy she got.
That was the morning. Then in the afternoon, the youths in my church organized a free car wash for all dads! Yesssss!! So, the whole family went, and my car which hasn't been washed in months (yes, you read that right) got the long overdue proper attention it needed. Not only a free car wash did we get, but some nice hot drinks and munchies as well! A very good effort by the youths from a very thankful father!